Clinical Trial
Experimental layout
The experimental variable considered for this study was weight gain average. On the basis of an awaited average dierence of weight gain of 11 kg, with a standard deviation of 9, 5 kg under 95% condence level and with 80% of statistical power, a minimum sample size of 14 animals was calculated for each experimental group. Each animal was considered an experimental unit. Thus, 40 nellore bulls with an average age of 25 + 7.7 month bulls with a 211.08 + 41.7 kg as initial average weight, were randomly assigned in two experimental groups of 20 animals each. However, there were 4 withdrawals in control group at the begining of the study. The weight of each animal was monitored 15 days during 90 days. This trial was held from September to January, 105 days period. The treatment consisted of 3 injection of 1 mL of modivitasan every 50 kg of body weigth repeated at 30 days intervals, being the rst administration on day 1, the second one on day 30 and last one on day 60.
Results
The results presented at Table 1 show a signicant statistical dierence on the nal weight gain value for the treatment group compared to the control group. This way, existence of higher weight gain has been evidenced, 13.3 kg weight average which favors the animals that were administered with the organic modier, Modivitasan, as it is observed in Picture 1. This increase of weight gain could be explained by the supply of minerals, energy, vitamins and amino acids contained within this organic modier.
Weight gain comparison

The averages were statistically dierent (p<0.01)
The averages were statistically similar (p=0.21)
Ganancia de peso Grupo Tratamiento y Grupo Control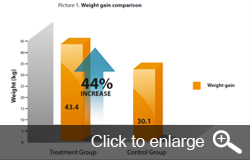 Grupos experimentales
La ganancia de peso promedio al final del estudio alcanza un 44% más para el grupo tratamiento en comparación con el grupo control.
A pesar de la precariedad de las pasturas se pudo obtener una ganancia diaria de peso vivo de 0.482 kg en el grupo tratado con Modivitasan, frente al grupo Control que alcanzó un promedio de ganancia diaria de 0.334 kg. A su vez, se puede atribuir un aumento del consumo voluntario debido al aporte energético, vitamínico y proteico del Modivitasan , ya que se menciona que el consumo voluntario y la digestibilidad responde a la suplementación energética y proteica cuando los forrajes contienen menos de 8 a 10% de proteína cruda, el cual es el caso de las pasturas utilizadas en el presente estudio (Allison, 1985; DelCurto et al., 1990).
Ganancia de peso Grupo Tratamiento y Control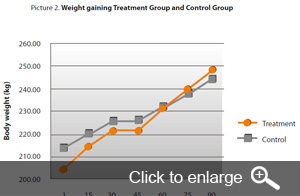 Día de estudio
Por otro lado, cabe recalcar que la ganancia de peso obtenida tiene un efecto positivo sobre la economía del criador, según lo demuestra el análisis económico realizado. Considerando un costo por tratamiento completo con Modivitasan a S/. 3.00 nuevos soles por animal, un precio de venta de ganado de S/. 4.00 nuevos soles por kg de peso vivo, y una ganancia de peso promedio de 43.4 kg y 30.1 kg para el grupo tratamiento (Con Modivitasan) y grupo control (Sin Modivitasan) respectivamente, tenemos una ganancia neta de S/. 44.2 nuevos soles por animal cuando se emplea Modivitasan (Gráfico 2).
Ganancia económica por animal con el uso de Modivitasan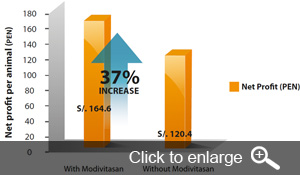 Día de estudio
Referencias
1. Allison CD. 1985.
Factors affecting forage intake by range ruminants: a review. J. Range Manage. 12(3): 38-305.
2. Chicco F, Plasse D, Bodisco V. 1977.
Reproducción del ganado bovino en Venezuela. Agronomía Tropical. 27(3): 357-386.
3. DelCurto T, Cochran R, Harmon D, Beharca A, Jaques K, Towne G, Vanzant E. 1990.
Supplementation of dormant tallgrass prairie forage:
I. Influence varying supplemental protein and (or) energy levels on forage utilization characteristics of beef steers in connement. J. Anim. Sci.,
68: 515-531.
4. NRC (National Reserach Council). 2001.
Nutrient Requirements of Dairy Cattle. 7th Rev. Ed. National Academy. Press, Washington, DC. 381p.
5.Garmendia J. 2006.
Los minerales en la Reproducción Bovina. Disponible en: http://www.avpa.ula.ve/ docuPDFs/xcongreso/minerales.pdf (consultado 6- 02-2010).
6. Durán E, Calvo C, Díaz R, Sánchez V. 2005.
Rentabilidad comparativa entre el pastoreo tradicional y el pastoreo intensivo tecnificado en el trópico seco de Oaxaca. UABJO-EMVZ. En:
http://www.infolizer.com/1ammv5eb2a1n5et/Rentabilidad-comparativa-entre-el-pastoreotradicional-
y-el-.html
7. Rodríguez SLM. 1989.
Estudio de la eficiencia del acetato de trembolona 17B estradiollactosa,
Acetato de trembolona 17 Bestradiol-colesterol, benzoato de estradiol más
progesterona y zeranol sobre la ganancia de peso en novillo en pastoreo con
complementación. Tesis de licenciatura. México DF: Fac. Med. Vet y Zoot. U.N.A.M. 89p.